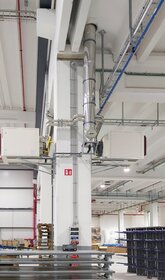 Kies uw rookgasafvoer uit ons brede assortiment
Bij Opsinox vindt u een ruim en gevarieerd aanbod aan rookgasafvoer mogelijkheden. Welk type dat u kiest, wordt bepaald door meerdere factoren. Kom snel de vele opties ontdekken bij Opsinox.
Met ons brede assortiment aan rookkanalen, vind je vast ook het type rookgasafvoer dat u nodig heeft. Of het nu gaat om inox rookkanalen, collectieve systemen voor gashaarden, stalen rookkanalen, rookkanalen voor pellet, email schouwbuizen of galvanisé kachelbuizen, bij Opsinox vind je het allemaal.
Om te bepalen welke rookgasafvoer meest geschikt is in uw situatie, zijn er meerdere zaken om rekening mee te houden. Zo is het type van zowel de verwarming, als het verwarmingstoestel, als de plaats van de rookgasafvoer bepalend.
Het kiezen van de beste rookgasafvoer hangt dus van meerdere factoren af. Geeft u hierbij graag professioneel advies bij het maken van de juiste keuze, reken dan op de expertise van Opsinox. Onze deskundigen helpen u graag verder op weg zodat u de vast de rookgasafvoer kiest die bij uw installatie en situatie past en optimaal van uw verwarming kan genieten.