Years of know-how and solid service
We have put ourselves on the map in 70 years with a specialization in solutions in flue gas exhaust & HVAC applications. Opsinox in three words? Belgian, qualitative and contemporary. As a local player with Belgian production we can keep our finger on the pulse and meet the needs of our customers quickly and flexibly. You can come to us for stainless steel fireplaces: various CLV systems, stove pipes, stainless steel single or double-walled pipes, concentric smoke discharge ducts, as well as for roof caps and customised work.
70 years of experience
1958 (1)establishment
Establishment of the company in Wortegem, whose activities are mainly agricultural and leisure applications.
1978 (2)specialisation
Met de oprichting van PVBA Metaal spitste het bedrijf zich meer toe op rolgasbuizen in gegalvaniseerd metaal en later ook in inox.
1994 (3)HVAC market
The activity is expanded with the development of products for the HVAC market.
1999 (4)purchase of land
Purchase of a plot of land of 2 ha at a strategic location near the E17 in Nazareth (between Ghent and Kortrijk).
2001 (5)moving
Move to a new building in the industrial zone De Prijkels.
2015 (6)acquisition
Take-over of NV Pronox by the family Anne Santens, which is active in subcontracting for the construction industry and is part of the Lecot group. Under the new policy, the family wants to further focus on quality continuity and professionalizing the organization.
2020 (7)further growth
Opsinox will continue to invest in sales & marketing, digitalization & IT, as well as in modernizing its machinery.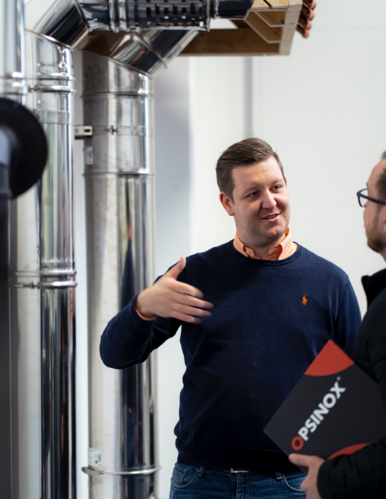 research & development
We are constantly looking for innovation and improvement. Our R&D team is working full-time on optimising the existing range and developing new products or applications. As a result, we have a whole range of patented products in our assortment.

We are also an official member of the NBN Committee - Working Group E 166, which is responsible for drawing up standards and guidelines relating to central heating systems and flue gas discharge systems.
Innovations are always done in close contact with our customers, so that an optimal tailor-made solution can be offered. Every problem is a challenge for us, which we take up with great pleasure.
production & logistics
Our range of products in stainless steel (single or double wall), Galva, CLV systems and the patented OTF (Opsinox Triple Flow), CSG and Opsivent systems, is produced in Nazareth (Deinze), at an ideal logistics location near the E17. Thanks to an efficient logistics organisation and a large stock, we can deliver our products quickly and on time.
sales & support
Our enthusiastic sales team is ready for support and advice every day. They know the regions, are active in your area and have relevant experience. The team has a technical background and thinks along proactively with the questions and needs of our customers. Feel free to involve them in the development of a specific project, so they can look for a win-win for all parties.
service & administration
You cannot make a good sale without good follow-up and service afterwards. With a team of motivated employees, Opsinox is always ready to serve its customers. They find it important that you are satisfied with the administrative processing of your orders and will always support you by phone with practical questions.

Our administrative employees have been working for us for several years, which means they have extensive experience and can easily understand the needs of our customers. They are also in close contact with our sales team, so that good communication is assured.
Made in Belgium
production in your own country
Producing locally has the advantage that we are flexible and can react quickly. We retain full control over our production and can switch quickly. We follow up each file strictly and guarantee agreed delivery terms. And that's not all: because we do not work with intermediaries, our prices are correct and competitive.
sustainability through proximity
Sustainability is a flag that covers many things. By producing locally, we minimise transport and thus reduce our ecological footprint. But choosing to produce locally also creates employment and supports the local economy.
With opsinox you choose for...